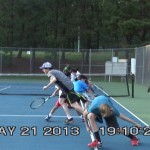 Welcome to Do It Right Tennis.  Do It Right Tennis is an organization which delivers to Tennis Players, their sponsors, coaches and Pros, Tennis Analytics.  Which build and strengthen an individual in a life time sport through personal interface, advance robotics and a digital delivery system. In short you learn life skills at a faster rate using a life-time sport Tennis. Nishant Munjal just became the 14th person to hit Robert Allen Gibson 5 times in a row from the baseline since 2006. Lighting strikes twice in the same month Nathan DeMaayer just became the 15th person to hit Robert Allen Gibson 5 times in a row from the baseline since 2006. During tennis lessons at the very start of class I give my students the chance to hit me with 5 strokes. For some of the more advance players what would be the purpose of this tennis instruction? In my Raleigh Tennis Lessons I tell my students that there are consequences for every thing they do or don't do. In my tennis Instruction for Apex I tell the players I coach that it allows me to see just where they are at in perfecting their strokes. To my advance Adult player I coach in Morrisville I told him that it is a test to see how ready he is to win the very first point, a Golden set or how well he understands what he has to do  to win his matches.  Keshav is the number 16 player to hit me all 5 shots. It looks like this is the year to hit Coach Robert. These people are in a position that they can hit their strokes the very fist time of the day or they are ready to win the first point of a game, first set of the match. After a 3 hours rain delay Roger Federer was able to hit his first serve as an ace against the #1 player in the world Novak Djokovic .
We also build Champions by making sure players understand the nutritional needs and balance needed within the body to recover quickly through proper hydration and use of nutritional supplements. As with all things; Preparation, Concentration, Timing and Visualization are necessary to build a nutritionally strong body. Eating your heavy carbs and protein the night before your performance, drinking the right amount of water daily, having a good breakfast, all timed properly will allow the body to perform at it's best. Do It Right Sports unpaid endorsement for the products is on this post, if you care to read it and see the statistics around Robert Gibson's  use of the Advocare nutritionals.
Are you ready to add a professional hitting partner and a statistician to your team?  We have the first advanced tennis analytics center in Cary and Raleigh, North Carolina, using Boomer – the Advanced Tennis Robot.  Tennis students from Cary, Morrisville and Raleigh Working with our center incorporate tennis analytics in their training program. They have added a Statistician to their team that tracks their ability to read the ball and not the player. They are learning to take the analytics off the court and re-enforcing their pictures of the game and see the tactics they are using to win points. It is easier to set goals and track progress. We make working with different pros better, easier and more cost effective.
Take your organization to the top in the tennis industry at a fraction of the cost. Working with Do It Right Tennis, we can turn your facility into a tennis analytics center. Boomer can play with you at whatever level you are– beginner to pro.  He will rate your shots, measure your speed, serve, and act as a common ball machine if that is what you want. He will tell you where you need to improve, and plot your progress over time. He can train you or work with your tennis trainer remotely.  Schedule your appointment today.  Why use a Ball Machine?
We are located at the Lake Lynn Tennis Courts off Ray Road in Raleigh. We offer a USPTA certified tennis coach for private or group tennis lessons, sports training, and Boomer analysis with optional video analysis.
We want to build your game to win at all levels through your life time career in tennis as a social player or a competitive Middle School team player, High School team player, College player, State | Regional | National Level player and even Professional.  It would be an honor to represent Raleigh/Morrisville/Cary areas as your coach/tennis instructor/tennis friend. Are you ready to get started.
See how the tennis pros do it right!

---
"There is nothing training cannot do. Nothing is above its reach. It can turn bad morals to good; it can destroy bad principles and recreate good ones; it can lift men to angelship. "
Mark Twain (1835-1910)